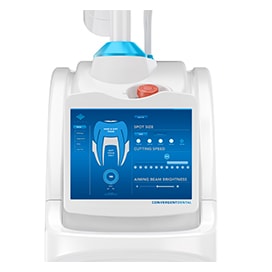 We understand that your little ones get anxious about coming to the dentist, and something like a dental laser – even though it sounds cool – is bound to make them even more nervous. That's why we use the Solea dental laser. It's a noiseless and needle-free way for our team to perform a number of procedures that previously required anesthesia, needles, and sutures.
Your child will feel more relaxed, and we can get through the procedure faster and more efficiently than ever before.
Soft & Hard Tissue Laser
The Solea laser allows our team to work anywhere in the mouth with a single tool. The revolutionary instrument can remove decay from teeth or work on gums in the case of gum disease. And it can do it all without the need for anesthesia because it causes virtually no pain. There is also no vibration and no noise, so it's great for children who are sensitive to sensory stimulation.
Call our office to learn more about what we can do with the Solea dental laser!
See the Solea Dental Laser in Action!
Solea Dental Laser FAQs
What procedures can be done with Solea?
At our Alexandria pediatric dental office, Dr. Lopez and our team can perform a number of procedures using the Solea dental laser. We can use it to remove decay in preparation for a filling. We can treat tongue and lip ties quickly and easily, and likely without the need for sutures afterward. Dr. Lopez will discuss the option of using the dental laser for your child's treatment with you before we move forward with any treatment.
Will my child need anesthesia?
Most likely, your child will not need anesthesia. The dental laser provides a nearly pain-free experience, and it's also vibrationless and noiseless, so even kids who become anxious because of sensory stimuli should continue to feel at ease. We have anesthesia on hand in case it's needed, but in our experience, most children don't need it. This also means that your child leaves our office without the typical numb lips and mouth, so they can get back to normal life right away!
Does my insurance cover the use of a pediatric dental laser?
Every insurance plan is different, so our team will check your benefits and give you an estimate before we begin our work. You can call our office and provide your insurance information so we can begin the process before your child's appointment. As always, we will file and track your claims for you to help maximize your benefits.
Have more questions or want to schedule an appointment?