Your Child's Visit to Alexandria Pediatric Dentistry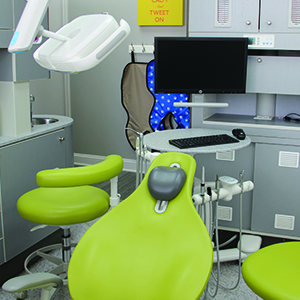 At Alexandria Pediatric Dentistry, we strive to be more than just a dental office that your child visits twice a year. We want to be your child's dental home!
Dental visits during childhood are important because they keep your child's smile healthy, but also because they can shape your child's attitude toward dental care for the rest of his or her life. Dr. Lopez and our team take this responsibility seriously, and we're committed to making your child's visits to Alexandria Pediatric Dentistry as positive and memorable as possible.
Your Child's First Appointment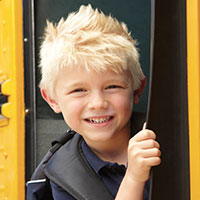 Dr. Lopez firmly believes in the American Academy of Pediatric Dentistry's recommendation that children have their first checkup by their first birthday. Many parents don't think about dental visits until their child has most of his or her teeth, but decay can start the moment the very first baby tooth comes in!
During your child's first visit, Dr. Lopez will complete a gentle, comprehensive oral exam. He has a fun and easy-going chairside manner that puts kids of all ages at ease, and our treatment areas have been designed to feel safe and cozy, too. Kids can wrap up in a warm blanket, hold on to one of our stuffed animals, and enjoy their favorite cartoon or movie on the overhead TV. Their visit will be over before they know it!
When your child's exam is complete, Dr. Lopez will sit down with you to discuss his findings and let you know what to expect in the months and years to come. He will address a variety of dental and general health topics that can affect the development of your child's smile, including:
Proper Brushing & Flossing
Nutrition for Strong & Healthy Teeth
Prevention of Cavities & Tooth Decay
Habits like Thumb or Finger Sucking
Bite or Tooth Eruption Irregularities
New Patient Forms
We're always welcoming new patients to Alexandria Pediatric Dentistry. For your convenience, complete our online forms here. Online Forms →
New Patient Gift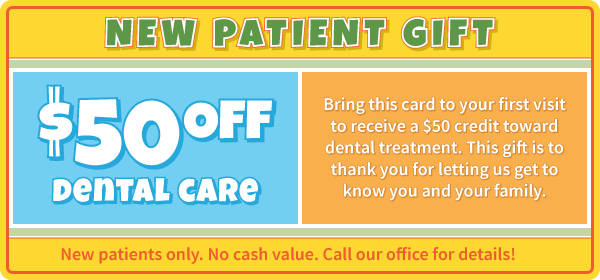 Click the coupon above for a printable version, and bring it with you to your first visit.
Flexible Scheduling for Busy Families
With our convenient hours and Saturday appointments, you won't have to miss work, school, or family time to fit your child's dental visits into your busy schedule. We also do our best to accommodate same-day appointments whenever possible, especially for dental emergencies.
Family Block Appointments
Our family block appointments are great for bigger families because they let multiple kids be seen back to back. You only have to make one trip to Alexandria Pediatric Dentistry and everyone can leave with a bright, clean smile.
Dental Emergencies
Dental emergencies can be scary, especially for children. If your child experiences a dental emergency, call our office immediately! We'll talk you through the situation and schedule a same-day emergency visit if necessary. No child should have to wait in pain!