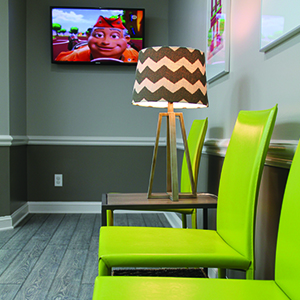 It's completely normal for children to feel anxious about going to the dentist. After all, some adults feel a little nervous before a dental visit! Dr. Lopez and our team at Alexandria Pediatric Dentistry know how to help children of all ages feel safe and relaxed in our care.
Before beginning any treatment, we will get to know your child's unique personality and determine the best approach for his or her needs. Making dental visits comfortable and stress-free for each and every patient is our specialty!
Amenities for Kids & Parents
Toys, Books, & Video Games
Complimentary Beverages
TVs in Treatment Rooms
No-Shot Dental Fillings
Treasure Chest with Prizes
Sedation Dentistry
Many children can benefit from sedation dentistry, whether they're very anxious, have special needs, or are unable to cooperate with our team. Dr. Lopez is certified to provide nitrous oxide (laughing gas) and he always follows the guidelines set by the American Academy of Pediatric Dentistry.
Nitrous Oxide (Laughing Gas)
Nitrous oxide (laughing gas) is a sweet-smelling, colorless blend of gases that can create feelings of happiness and relaxation when inhaled. Some even describe feelings of floating or giddiness, which is why it is called "laughing gas." Nitrous oxide is a safe and comfortable way to help children receive the treatment they need.
Schedule your child's appointment at Alexandria Pediatric Dentistry today! We're on a mission to prove that dental visits don't have to be scary—in fact, they can even be fun.
Dr. Lopez looks forward to getting to know you and your family, too!